5 Steps to Write a Short Story
How do you write a short story? How is writing a short story different than writing a novel?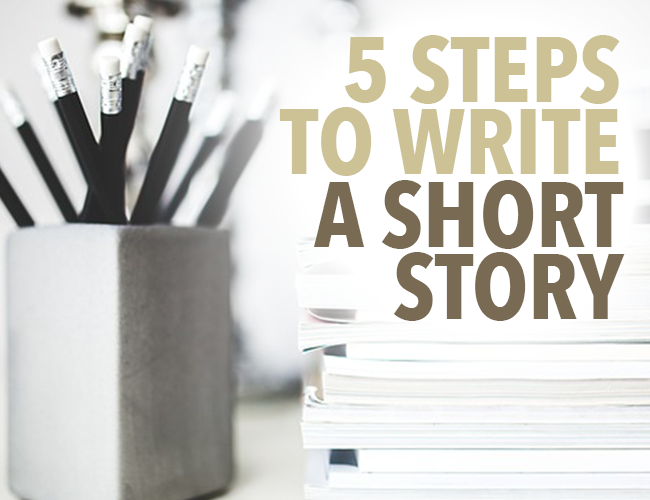 These are tough questions to answer because there are as many types of short stories as there are types of novels. There are long short stories, short short stories, simple short stories, and complex short stories.
Still, if you want to write a short story, here are five steps to help you get started:
1. Read Short Stories
Real writers read, and as Stephen King said, "If you don't have time to read, you don't have time to write."
If you've never read a short story, you're going to have a difficult time writing one. Even if you've read hundreds of stories, studying one or two closely will help improve your understanding of the short story form.
To find a few good short stories in your favorite genre, check out our free resource, 46 Literary Magazines to Submit To.
2. Summarize Your Short Story
Before you begin writing, try a screenwriting trick known as loglines. A logline is a one sentence summary of your short story, its core, its essence. For example, here's a logline for "A Rose For Emily" by William Faulkner:
Logline: A lonely, Southern woman is found dead and decaying in her home after being abandoned by her lover.
The formula is your character + a descriptor (e.g. lonely, Southern woman) followed by an event (e.g. found dead) followed by a conflict (abandoned by her lover).
This will help you understand what your story is about.
3. Write Your Short Story
Some guides suggest focussing on writing a catchy first paragraph first, but while that's important, it puts a lot of pressure on you when you're first getting started writing your short story.
Instead, just write. Just put pen to paper. Don't worry about what comes out. It's not important. You just need to get your short story started.
You will need to write 50 to 100 percent more words than will end up in the final draft of your short story. That means if you're trying to write a 5,000 word short story, you might need to write 10,000 words total in your first draft. Why?
Your job is less to write words than to pick the best words. To get a good short story, you will have to cut out a lot of mediocre writing.
4. Rewrite and Edit
All good writing is rewriting.
After you write your first draft, you need to start cutting, rewriting, and editing your short story. This is the hardest part of writing a short story, and can feel like wading through a swamp or climbing through a very tight cave.
However, don't give up now. You're almost there.
To make rewriting easier, I highly recommend the word processing program, Scrivener, which makes organizing your work much easier.
5. Submit!
Before you submit your short story, make sure you've read it aloud several times to find typos and grammatical errors and that you've formatted it according to standard manuscript format.
Then, skim several literary magazines in your genre and read their submission guidelines to know if your short story will be a good fit.
Finally, it's time to send your baby out into the world. Don't over think it. Just do it. It will be hard to let go of your short story, but you can't get your story published if you don't submit.
A Step-by-Step Guide to Write and Submit a Short Story
For a more complete guide to writing and submitting a short story, check out the work book 15 Days to Write and Submit a Short Story. It will walk you through the whole process of writing and submitting a short story. It also includes over 25 writing prompts and more than a dozen inspiring quotes from great writers to kick your short story writing into action.
Write your short story today!