My Favorite Writing Quotes
Sometimes, as a writer, it's nice to not feel alone. After all, writing can be hard, lonely work.
Even if you have supportive friends and family, no one can understand what it's like to be a writer except for other writers.
A good writing quote at the right time, especially from one of your favorite authors, that can make the difference between a good writing day and a bad one.
So with that in mind, I want to share a few of my favorite writing quotes. Hopefully they'll inspire you to keep going today.
My Top 5 Favorite Writing Quotes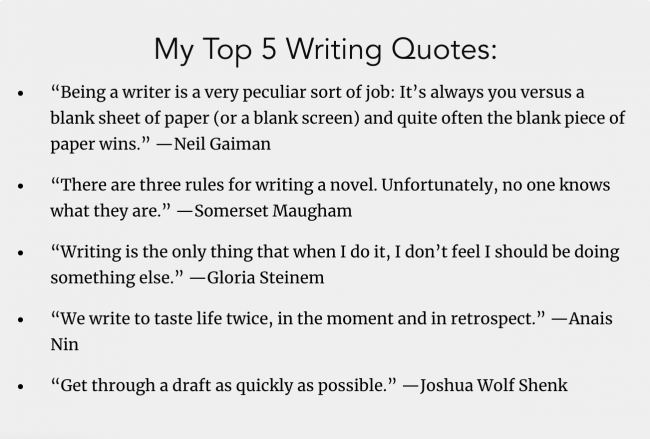 "Being a writer is a very peculiar sort of job: It's always you versus a blank sheet of paper (or a blank screen) and quite often the blank piece of paper wins." —Neil Gaiman
"There are three rules for writing a novel. Unfortunately, no one knows what they are." —Somerset Maugham
"Writing is the only thing that when I do it, I don't feel I should be doing something else." —Gloria Steinem
"We write to taste life twice, in the moment and in retrospect." —Anais Nin
"Get through a draft as quickly as possible." —Joshua Wolf Shenk
More Writing Quotes
"This is how you do it: you sit down at the keyboard and you put one word after another until it's done. It's that easy, and that hard." —Neil Gaiman
"You don't start out writing good stuff. You start out writing crap and thinking it's good stuff, and then gradually you get better at it. That's why I say one of the most valuable traits is persistence." —Octavia E. Butler
Want more? You can find a list of the best 37+ writing quotes here.